Helderblauwe meren en ruige landschappen. De regio ten westen van de stad Almaty heeft veel te bieden. Maar, kan lastig te bezoeken zijn. Deze toplocaties horen op een reisschema als je de Almaty-regio bezoekt.
Belangrijk: neem je paspoort mee als je deze regio bezoekt! Er is in 2019 een politie-checkpoint opgezet en het komt voor dat reizigers worden geweigerd indien zij deze niet mee hebben.
---
CHARYN CANYON
In een stevige 4WD rijden we weg vanuit Almaty. Uren en uren zie ik enkel zandachtige steppe-vlakte voor me. En dan lijkt de grond open te barsten en verschijnt de magische Charyn Canyon voor me.
De Charyn Canyon – oftewel de Scharynkloof – is een een kloof van maar liefst 80 km lang die op vier uur rijden van Almaty ligt. Gevormd door miljoenen jaren van wind en water, is de kloof in haar huidige vorm een waar natuurspektakel. In het gebied kan je hiken, off-road-crossen met 4WDs en simpelweg voor je uit staren terwijl je je een voorstelling probeert te maken hoe de rode zandlagen er miljoenen jaren geleden uitzagen.
---
KOLSAI LAKES
Dennenbomen en witte pieken worden weerspiegeld in het heldere bergwater. Een smal zandpad volgt het heldere meer om vervolgens het wilde bos in te verdwijnen. Welkom bij de Kolsai lakes.
De Kolsai lakes is een verzameling van drie meren: de lower, middle en (verrassing, verrassing) upper. Hiken is de voornaamste reden om hier te komen. Vanaf het eerste meer is het ongeveer drie uur via een rotsachtig pad naar het tweede meer. En waar je een groot gedeelte van de route al aan het stijgen bent, is het vooral de laatste drie kwartier redelijk steil omhoog klimmen. Heerlijk. Zie je dit niet zitten? Dan kan je ook een paard huren bij het eerste meer.
Helaas is de toegang tot het laatste meer op het moment van schrijven niet toegankelijk – de Kazachse veiligheidsdiensten vinden dat het te dicht bij de grens met Kirgizië ligt en laten op dit moment geen hikers toe.
Ben jij hier onlangs geweest en is het derde meer wel weer toegankelijk? Laat het me vooral weten in de comments.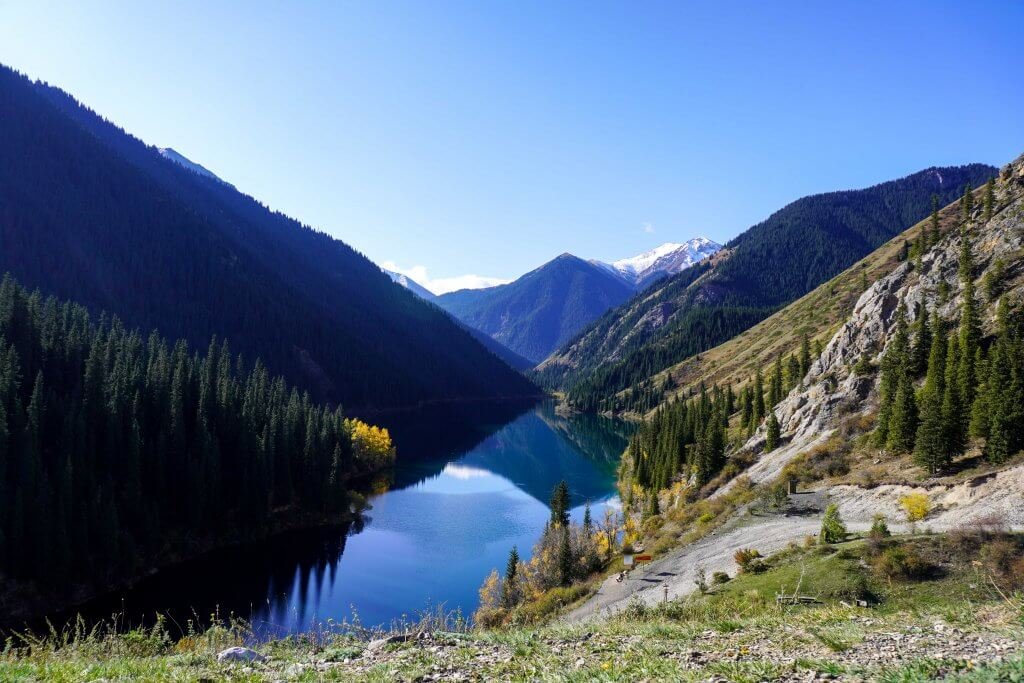 ---
KAINDY LAKE
Ziet er bizar uit of niet? In 1911 ontstond het bergmeer Kaindy lake door een tragische gebeurtenis: door een aardbeving ontstond er een aardverschuiving die een natuurlijke dam creëerde. Hierdoor kon het bergwater niet meer weg en verdween het bestaande bos onder water. Wat je nu ziet zijn de afgestorven bomen die als eenzame palen boven water uit staan: boven water helemaal kaal, maar onder water zitten de naalden er nog aan.
En extra vet? Je kan dus serieus duiken in het meer en het gezonken bos vanonder aanschouwen. Wow, dat moet magisch zijn niet?! Let wel, je moet hier echt een ervaren duiker voor zijn – de reden waarom ik het helaas aan mij voorbij moest laten gaan. Want ook ben ik een PADI Open Water Advanced Diver, je kent de nummer 1 regel van duiken: 'don't dive beyond your capabilities'. En een eerlijke inschatting van mijzelf liet mij tot de conclusie komen dat dit waarschijnlijk geen goed idee was. Jammer.
Tip: ga je niet op een tour en heb je geen eigen auto (zie sectie hierna)? Dan zou ik er ernstig over nadenken of het een bezoek waard is. Ja, het is schitterend om te aanschouwen, maar wel enorm veel gedoe om er te komen. En uiteindelijk is het ook maar gewoon een meer.
---
TO TOUR OR NOT TO TOUR?
Je weet het, in principe ben ik meestal voor de do-it-yourself (DIY) optie. Dat gezegd hebbende, is Kazachstan een erg lastig land daarvoor indien je de natuur wil ontdekken. Dus, kies zelf: ga je voor de DIY optie of neem je een tour. Hierbij beide mogelijkheden uiteengezet.
DIY
Heb je alle tijd van de wereld, geen probleem met lang wachten en een aantal overstappen? Dan kan je ook (gedeeltelijk) zelf hier komen. De beste optie is met je eigen vervoer. Er gaat een weg naar de Charyn Canyon, naar de Kolsai lakes gaat er inmiddels een verharde weg, maar nog niet naar Kaindy lake. Voor deze laatste is dus een 4WD nodig.
Heb je geen eigen vervoer in Kazachstan? Dan wordt het allemaal wat lastiger. wil je het toch ondernemen, dan kan je voor de meren het beste vanuit Almaty naar het dorpje Saty gaan. Er zoú een marshrutka moeten gaan die er 5 á 6 uur over doet, maar er is veel onzekerheid of die daadwerkelijk gaat. Het beste kan je dit dus bij je accommodatie in Almaty navragen. Vanwege de lange reistijd slaap je in Saty om vanuit hier naar de meren te vertrekken. Let wel: op het moment van mijn bezoek was er geen standaard marshrutka die naar de meren vertrekt. Vervoer ernaar toe moet je in Saty dus weer zelf zien te regelen. Sommigen liften, maar afhankelijk van het seizoen is er wellicht niet veel verkeer. De lokale bevolking kan je soms (uiteraard voor een vergoeding) naar de meren brengen. Regel wel meteen even een ritje terug.
Hetzelfde geldt voor de Charyn Canyon. Er wordt gezegd dat er een bus vanuit Almaty zou gaan die er vier uur over doet, maar tot op heden is het me niet duidelijk geworden of deze daadwerkelijk vertrekt. Sowieso stopt de bus bij de kruising en moet je de laatste 10 km naar de toegangspoort lopen. Een shared-taxi is een andere optie.
Tip: ga je naar de Kolsai lakes? Stap dan niet uit bij de toegangspoort: het daadwerkelijke begin van de meren is nog 8 km verder.
TO TOUR
Klinkt dit allemaal als wat veel gedoe? Er zijn een aantal organisaties die tours naar de regio aanbieden. Zo ben ik met de professionele organisatie van Azamat meegegaan – Outfitter KZ. In het specifiek ging ik op de driedaagse Charyn canyon, Kolsay and Kainy lakes tour, waarbij we in een 4WD naar de schitterende natuur gingen, hiketen naar de meren, maar ook naar totaal onontdekte plekken in het gebied gingen – ieder jaar stuurt Azamat er namelijk twee man op uit om nieuwe plekken aan zijn tour toe te voegen. Dikke aanrader!
Afhankelijk van jouw voorkeur kan je uiteraard ook een van de andere tours kiezen. Zo kan je op dag-trip naar de Charyn canyon, alleen naar de meren of naar een ander gedeelte van de prachtige Almaty regio.  
---
BEN JIJ AL EENS IN DEZE REGIO VAN KAZACHSTAN GEWEEST?