Erzurum, een stad in het oosten van Turkije. Een stad omringt door besneeuwde bergen. Een stad die ooit aan de Zijderoute lag. Is deze stad het bezoeken waard?
---
ERZURUM IN TURKIJE: EEN TUSSENSTOP
Na onze reis over de Zijderoute te zijn begonnen in Istanbul, Ankara te hebben aangedaan en naar hartelust te hebben gehiked in Cappadocië is het tijd om door te gaan. Door richting het oosten. De stad Erzurum is waar we uitstappen. Omdat we meer willen zien dan de alom bekende steden, omdat de bergen ons aanspreken en om een lange reis op te breken.
En om meteen maar met de deur in huis te vallen: het is niet een stad die je hoeft te bezoeken indien je er niet direct langs komt. De sights zijn beperkt, de stad is klein – het centrum is feitelijk één straat – en er is geen levendige cultuur. In ieder geval niet voor de vrouwen, want bij veel van de plekken om cay (thee) te drinken die wij er leuk uit vinden zien vanwege de kleine stoeltjes en backgammon-spelende mannen, zijn alleen mannen welkom. Dat krijg je, met een conservatieve stad.
Maar kom je erlangs, dan kan het zeker een tussenstop zijn waar je je anderhalve dag kan vermaken. En wel op deze manier.
COUCHSURFING
'Welcome, so nice to meet you. How was your trip?'. De 28-jarige geneticus Ömer houdt de deur van zijn auto voor ons open, de backpacks gaan achterin en we rijden naar zijn appartement in de buurt van de universiteit. Een ruime kamer begroet ons, net zoals zijn vriendin Sinem: 'would you like some burek?'. De oven staat nog te loeien met dit traditionele Turkse gerecht en dankbaar knikken we ja. Het moge duidelijk zijn: we zijn aan het couchsurfen in Erzurum.
Al eerder vertelde ik je wat couchsurfen is en waarom wij het doen en zeker in Erzurum is het een gigantische toevoeging om bij locals te verblijven. Doordat er feitelijk weinig te doen is, kan je op deze manier toch wat leren over de stad, de cultuur en hoe het is om er te wonen.
GASTVRIJHEID
De gastvrijheid die wij in Erzurum ervaren is gigantisch en je kan niks anders doen dan daar volle bak van te genieten. Ik kan er een heel artikel aan wijden. En you know what, dat ik ook gewoon. Hier lees je hoe bijzonder de gastvrijheid in Erzurum is.
CENTRUM: CUMHURIYET CADDESI
Feitelijk bestaat het centrum maar uit één straat: Cumhuriyet Caddesi. IJscomannen met rode arabische vesten scheppen met lange ijzeren scheplepels Turks ijs in hoorntjes voor een ieder die trek heeft. Winkelend publiek gaat de winkels met schoenen, kleding en elektronica in en op het plein rondom de moskee vind je op sommige avonden een markt.
CIFTE MINARELI MEDRESSE
Twee lichtbruine minaretten met prachtig blauwe decoratie baden in goud licht. Het zijn de minaretten van de Cifte Minareli Medresse: het symbool van Erzurum. En met goede reden, want het gebouw uit 1260 is de mooiste van de stad. Het is een voormalige theologische school die sinds een aantal jaar nu ook te bezoeken is. Bij binnenkomst gebaart de dame die er werkt dat we onze backpacks in haar kantoortje kunnen zitten en zo kunnen wij de binnenkant bewonderen. De entree is gratis.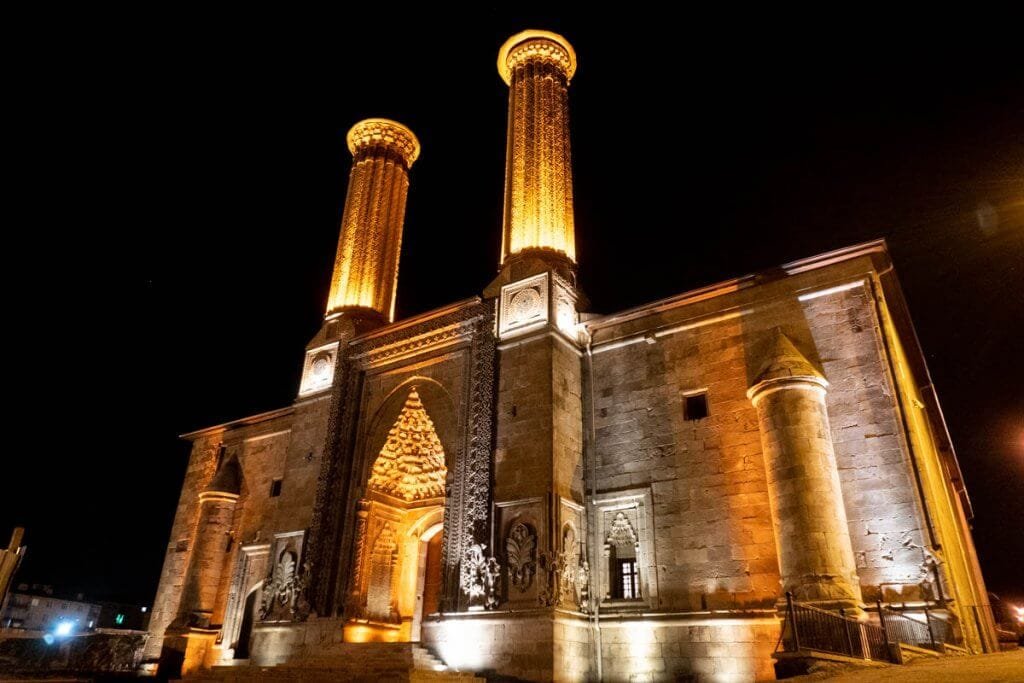 GEBOUWEN UIT DE … EEUW.
Het Turkse Erzurum is rond het jaar 415 gesticht en heeft eeuwen en eeuwen geleden aan de Zijderoute gelegen. Behalve de voorgenoemde Cifte Minareli Medresse zijn er nog een aantal oude gebouwen die het waard zijn om langs te lopen als je de Erzurum bezoekt.
Denk aan Ullu Cami, de oudste moskee in de stad, die er nét iets anders uitziet dan de moskeeën die je waarschijnlijk gewend bent. De Lalapasa Cami, de moskee waar de markt rondom is. Of Uc Kumbetler: drie monumentale mausoleums. Verder prijkt een gigantische Turkse vlak trots op Erzurum Kalesi, het stadskasteel. Maar onze hosts vertelde ons dat deze stiekem pas vele eeuwen later is gemaakt.
Uiteraard liggen al deze sights allemaal aan, of vlak bij, de hiervoor genoemde straat: Cumhuriyet Caddesi.
OUDE HUIZEN: ERZURUM EVLERI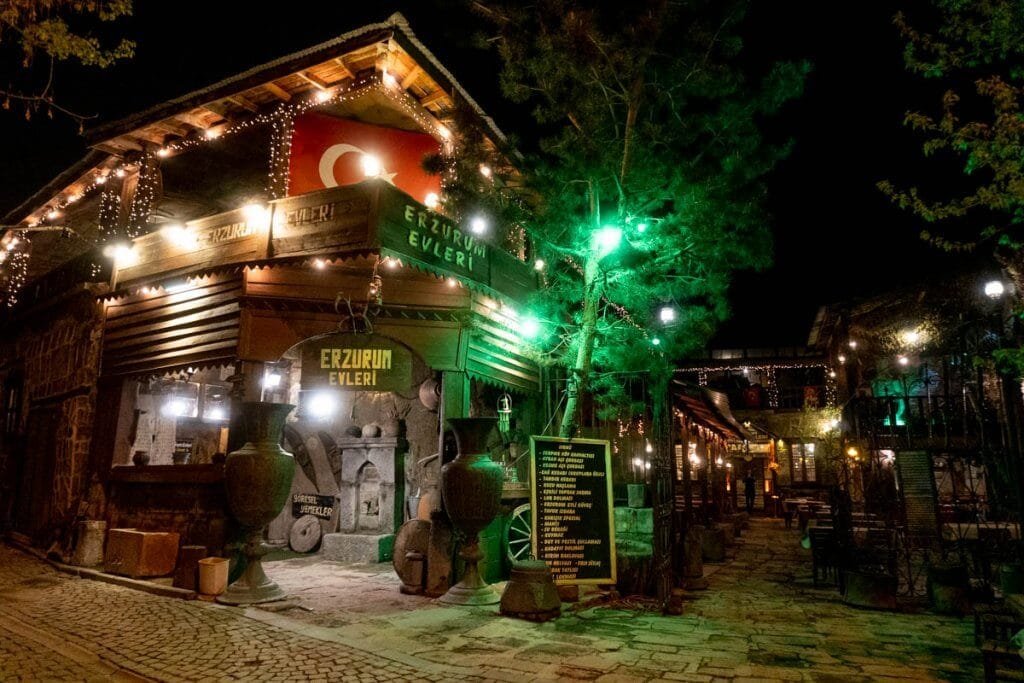 Ik stap over een robuuste houten drempel en weet niet waar ik moet kijken. Poppen met traditionele kledij begroeten ons, gebedskransen hangen aan het plafond, bordeauxrode tapijten verzachten de grond en veel ijzeren schalen, potten en pannen en schilderijen van sultans versieren de muren. Overal waar je maar kijkt zijn comfortabel-ogende zithoeken gemaakt – zelfs in de gigantische open haarden.
We staan in Erzurum Evleri, een verzameling van eeuwenoude huizen die zijn samengevoegd en functioneren als een combinatie van soort museum en restaurant. Onze couchsurfing-hosts vertelden ons dat het eten er matig is, dus wil je er graag wat langer zitten, dan kan je er bijvoorbeeld voor kiezen om er een cay (thee) te drinken. Wellicht vragen ze je na een half uur om te vertrekken als je alleen een cay neemt, maar dan heb je wel even gezeten in de bizarheid die Erzurum Eveleri is. Als je echte alleen even wilt rondlopen: dat kan ook. Dan betaal je 3 TL (ongeveer € 0,45) entree. Een bedrag waar je overigens in heel Turkije al een cay voor hebt.
TAVSANLI PARKI & TAVSANLI CAY BAHCESI
'Too bad we already had some cay' zegt Ömer nadat we op onze eerste dag in Erzurum samen wat hebben gegeten bij hem thuis, 'otherwise we could go to a nice tea place'. 'We can have some more cay' zeggen wij direct. En dat was het enige juiste antwoord, blijkt al snel.
Ongeveer 15 minuten lopen vanaf de centrum-straat ligt het Tavsanli Parki, waar een groot theehuis in ligt genaamd Tavşanlı Çay Bahçesi. Alhoewel, ik weet niet of theehuis het juiste woord is, aangezien er maar één kleine ruimte binnen is en de rest puur het park is waar overal picknicktafels staan, soms met kleine daken erop.
Hoe het werkt is simpel: je bestelt bij een van de mannen die rondlopen iets te drinken – uiteraard cay – en die brengen dat naar jouw tafel. Bestel vooral niet een kopje cay – ik weet ook eigenlijk niet eens of dat mogelijk is – maar bestel een semaver. Je krijgt een gigantische ketel op tafel met bovenop een pot thee. Je schenkt een beetje thee in je kopje en vult de rest bij met heet water via een tap die aan de ketel zit. Water dat door een vuurtje onderin continue verhit blijft. Je kan er wat snacks bij bestellen (zonnebloempitten zijn gigantisch populair), maar je mag ook gewoon je eigen eten meenemen.
Dit is onze favoriete plek van de stad. Het is de plek waar iedereen bijeenkomt: familie, oude vrienden en zo ook nieuwe vrienden zoals wij.
BEKLIM EEN BERG
Erzurum is omringt door bergen en die kan je beklimmen. Je zal de enige zijn want op de herders en een enkeling – zoals Ömer – na beklimmen de inwoners de bergen niet. Behalve als er geskiëd kan worden, maar dan brengt de kabelbaan ze. Er zijn dan ook geen paden, dus je loopt op gevoel. Zelfs navigatie-app Maps.me vond er geen paden.
Nog een voordeel van een Couchsurfing host hebben, als die van hiken houdt, is dat hij of zij je kan vertellen waar je het beste omhoog kan gaan. Wij hebben onze host hier bijvoorbeeld ook echt op uitgezocht. En zo zijn wij de Sultanseki Tepesi piek van 2700 meter op gegaan (Erzurum zelf ligt al op 2000 meter). Een flink steile klim, waar we om de 5 minuten even hijgend moesten bijkomen en waar we 2 uur over deden. Zeker niet de 40 minuten die Ömer ons aangaf.
Puffend en hijgend bereiken we dan ook de top. 'Woowwwww, insane' hoor ik mezelf zeggen. Waar we de gehele klim het uitzicht van de stad achter ons genoten, zijn het nu een groen dal met daarachter prachtige besneeuwde toppen waar we op uitstaren. We hebben meteen een jodelen-in-de-Alpen gevoel. De door Sinem zelfgemaakte burek halen we uit de tas en onze picknick begint. De route naar beneden hebben we op gevoel gekozen. En dat werkte prima.
Tijdsindicatie: 8:30 uur begonnen, 10:30 uur op de top, 11:15 uur andere route naar beneden, 12:30 uur beneden bij het einde van Atatürik Bulvari. Vanaf daar was het nog 4 km naar het huis van onze host. We deden daar alleen wat langer over, vanwege de leuke uitnodiging die we onderweg weer kregen.
Tip 1: neem afhankelijk van de route minimaal één fles water per persoon, eten en warme kleding en een regenjas mee. Vanwege de hoogte wordt het namelijk altijd koud bovenaan. Wij beklommen de piek in mei toen het redelijk warm was en hadden bovenaan een t-shirt, fleecevest en softshell jas aan en hadden die ook echt wel nodig.
Tip 2: Denk goed na over de route: de piek die wij beklommen was goed te doen, vooral ook omdat het een relatief korte klim was en je de stad steeds zag, dus wist hoe je terug moest. Er zijn echter ook pieken waar je een hele dag over klimt en dat is niet altijd veilig. Zo moesten Ömer en Sinem ooit in de regen en kou overnachten op een piek omdat ze in het donker de weg terug niet meer konden vinden. En dat is niet precies mijn idee van een leuke dag hebben – buiten dat het ook levensgevaarlijk is. Even over nadenken dus.
FIJNE TWEE DAGEN
Ook al is de stad Erzurum dus zelf het bezoeken niet waard indien je er niet in de buurt bent, door bovenstaande dingen te doen hebben wij er heerlijke twee dagen gehad. Reizen naar een geweldige locatie  zorgt er soms voor dat je in een stad van sight naar sights holt en dat is ook maar vermoeiend. We hadden in Erzurum geen één keer het idee dat we iets moesten zien en dat was een verademing. We komen nog op nog zoveel fantastische plekken en in deze stad wonen en werken mensen gewoon, zonder de hoeplala die toerisme met zich meebrengt. Om zo een stad te zien,  het echte Turkije, vind ik toch wel een toevoeging. En ik kan het niet vaak genoeg zeggen: het verblijf bij Ömer en Sinem zorgden ervoor dat we ons helemaal thuis voelden.
BLOK PRAKTISCHE INFORMATIE: HOE KOM IK ER?
Trein | Vanuit Ankara vertrekt één keer per dag de Dogu Expresi, de trein die van Ankara naar eindpunt Kars in het aller-aller-oosten gaat en die ook stopt in Erzurum.
Reisduur | De gehele treinreis van Ankara naar Erzurum duurt 21 uur en een kwartier. Vertragingen niet meegeteld. Zo kwamen wij met een vertrek vanuit Kayseri (vlak bij Cappadocië, waar de trein ook stopt) met twee uur vertraging aan in Erzurum. En ook vier uur vertraging gebeurt regelmatig.
Reserveren | Denk eraan om een paar dagen van te voren te reserveren als je vanuit Ankara vertrekt! Omdat de trein maar één keer per dag gaat, kunnen plekken vol raken. Dit gebeurt niet altijd, dus proberen op de dag zelf kan altijd, als je er maar rekening mee houdt dat je wellicht niet die dag kan vertrekken.
Kosten | De kosten zijn afhankelijk van de soort plek de je neemt. Zo zijn er normale stoelen (prima ruime plekken), 2 persoons slaapcoupe's en 4 persoons slaapcoupes. Deze laatste kan je overigens als stelletjes niet zomaar samen boeken: mannen en vrouwen slapen apart, tenzij je de hele coupe boekt – hier hoor je alles over in de reispodcast.
Op de treinwebsite seat61 vind je een uitgebreid overzicht over hoe je een treinticket in Turkije boekt.
Op de website van de Turkse spoorwegen staan de actuele vertrektijden van de trein, prijzen en kan je direct een ticket boeken.