Be aware! In April 2018 an armed conflict broke out between citizens and the government of Nicaragua. For a while the recommendation of the Ministry of Foreign Affairs of the Netherlands was to travel only to Nicaragua if necessary. At this time, the risk level has been reduced to code yellow: 'pay attention, safety risks'.  Before you travel, always check the travel advice from your Ministry of Foreign Affairs (e.g. the Dutch, UK and USA authorities).
'It's gonna take a lot to take me awaaaaaay from you'. The sounds of all time favorite Africa of Toto ring through the improvised boxes tied to the frame of the open van. The wind makes my blond hair dance and the smell of flowers reaches my nostrils. A feeling of freedom and excitement overtakes me. But then the first tourists step into our blue monster. A group of guys with typical backpacker tank tops that seem very excited to go volcano boarding. The beautiful music that I was enjoying before is immediately drowned out by Dutch – what else – chatter. Of course in a volume that like a sledgehammer brings me back to reality. The exciting feeling makes place for something else: did I just step into the biggest tourist trap? It's a feeling that I cannot seem to shake.
VULCANO BOARDING: CERRO NEGRO
As an adrenaline junkie, I could not resist the temptation. As soon as I heard you could race down a volcano on a multiplex board at a speed of up to 100 km per hour, the choice was made. I had to go volcano boarding in Nicaragua. And no one could talk me out of it. Not even the boyfriend. The poor man was dragged to the heart of the action (or in any case to the city most nearby) and had to entertain himself for a day, because such a tourisity activity like volcano boarding was 'nothing for him'.
The best known and most popular place to go volcano boarding in Nicaragua is near León. Cerro Negro is the powerful fire-breather where the average boarder will whiz down from with a speed of 30 to 50 km per hour. Not everyone has the technique to get to a 100 (and that is maybe a good thing). It takes about an hour to drive there, but you don't have to worry about that, because the tours itself leave right from León.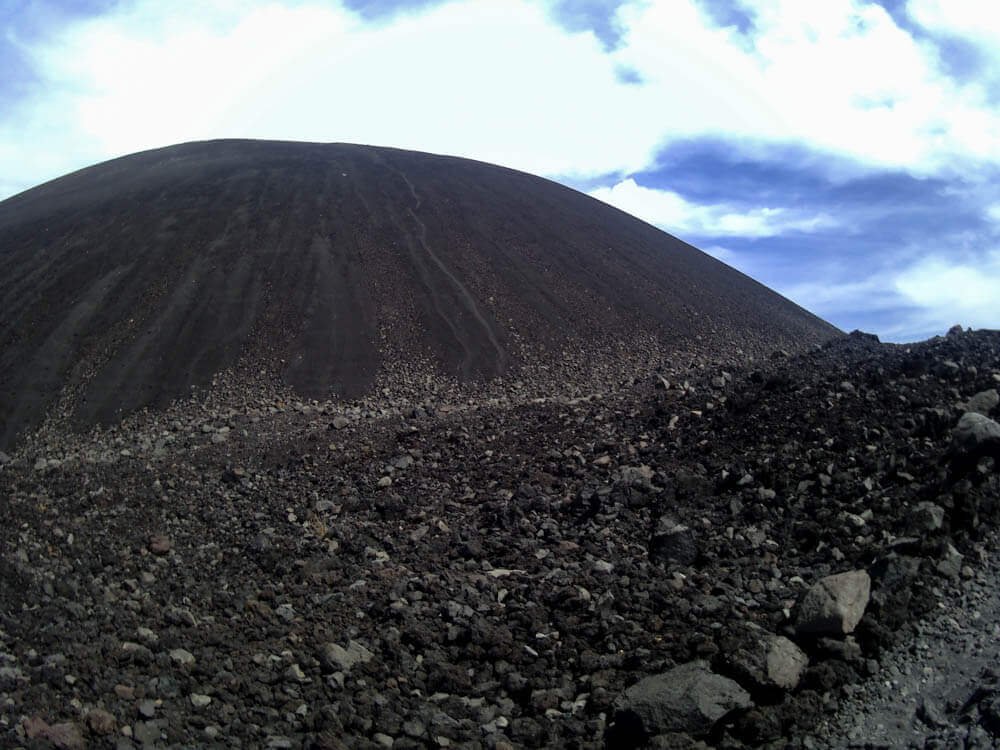 HOW GREAT IS THIS?!
When I exchange the brightly colored walls of my Nicaraguan hostel for an equally bright blue open van to transport me to the volcanic area, I feel my stomach growling. Okay, so I was hungry (I secretly always am), but this was more of an healthy-tension-kind-of-growl. And I love that. The feeling of what is coming and how fast will I go. The feeling that everything is possible. And then the fellow backpackers stepped into the van and that wonderful stimulating sensation disappeared like snow in the sun – or as lava from an erupting volcano. Was the lovah-lovah right? Or is it time to shake it off? While I hum along with the now Spanish music – music that makes both occupants of the van and the environment surround it awaken –  I know I'll do my best. Positive attitude: check. Vocal talent: uncheck.
THE WAY THERE…
As soon as the rickety van leaves the colors of the city behind, I am grateful that it is an open railing that encloses the van instead of windows of glass. Alternately, the smell of blossom and garbage that is being burned alongside the road finds its way to my nostrils. A smell of fire. A smell I secretly enjoy. The road becomes bumpier, asphalt turns into sand and lo and behold we pass a horse and carriage. Houses that can only be described as shacks line the so-called road. Low palm trees protrude from the gray volcanic sand that now has become our road and I am still looking for Cerro Negro, from which we will go volcano boarding. Because that is the one thing I still do not see.
And then the van drives down a slope and our endpoint appears. Two volcanoes with a brown glow and a black rascal that must be Cerro Negro. A fter all, there must be some logic behind its name (Cerro Negro = black hill). And that black hill makes me damn cheerful, as it appears in the middle of the green forest and plants sprouting yellow flowers. No matter how the volcano boarding itself will be: this is already pure enjoyment.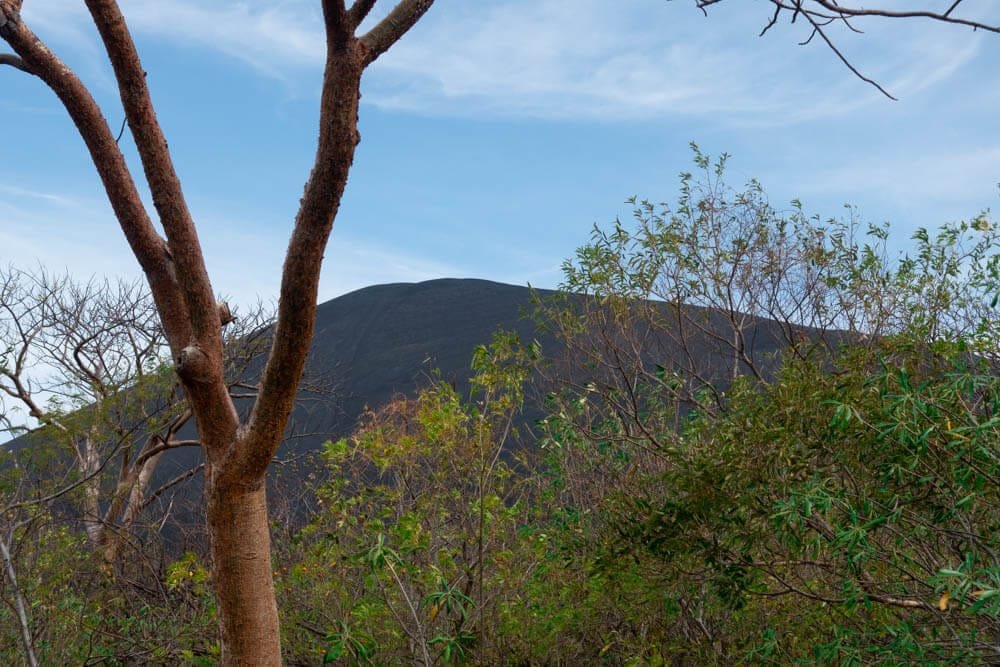 …AND THEN UP
With boards stuck between the straps of the stiff cotton backpack the organization gave us, we commence the hour-long climb to the top. Reasonable steep, but certainly doable. Grit and gravel are grinding underneath my sturdy walking shoes – because this smarty pants luckily did think to wear those. Water is not an unnecessary luxury. And I forgot to take it with me – there goes the smarty pants attitude. Did those noisy Dutch people after all came in handy, because they were certainly not too greedy to share theirs.
Walking on the edge of the volcano at times I feel like a sailboat lost at sea: struggling to keep standing while the strong wind presses against my board like it would on a sail. So definitely put your feet firmly in the volcanic sand and pay attention. The upside: you'll walk a few hundred meters on that windy edge of the volcano, giving you a beautiful view of the four craters. Just keep your balance.
ERUPTION?
Having arrived at the top at 728 meters, I cannot ignore it any longer: the view is overwhelmingly beautiful. Standing on the black rock, I feel like a phoenix that has just been reborn from its ashes. And standing on that mountain of ash, I absorb everything around me. The greens in the distance, the red shades of sand that appear between the black and the warmth I feel underneath me. Because the moment you put your hand in the sand you'll feel the heat of the swirling magma that is a few hundred meters below you.
Throw in the smell of sulfur on top of that and you'll realize how this volcano could erupt at any moment. Especially given the many eruptions of the volcano since the short time that it exists – at least 23 since its existence in 1850. A slightly panic moment follows when I am sitting on the edge of one of the craters and am feeling my body slide down a bit. Again there were those helpful hands to pull me up.
In the meantime mister tour guide takes his job seriously and tells us everything about the area and the volcano. How Cerro Negro is a part of the Cordillera Los Maribios mountain range. How it is the youngest volcano in the whole of Central America. Which landmarks we can see in the distance. With pointed ears I follow him around like a young puppy as to not miss anything. Because this makes the whole volcano boarding experience even better.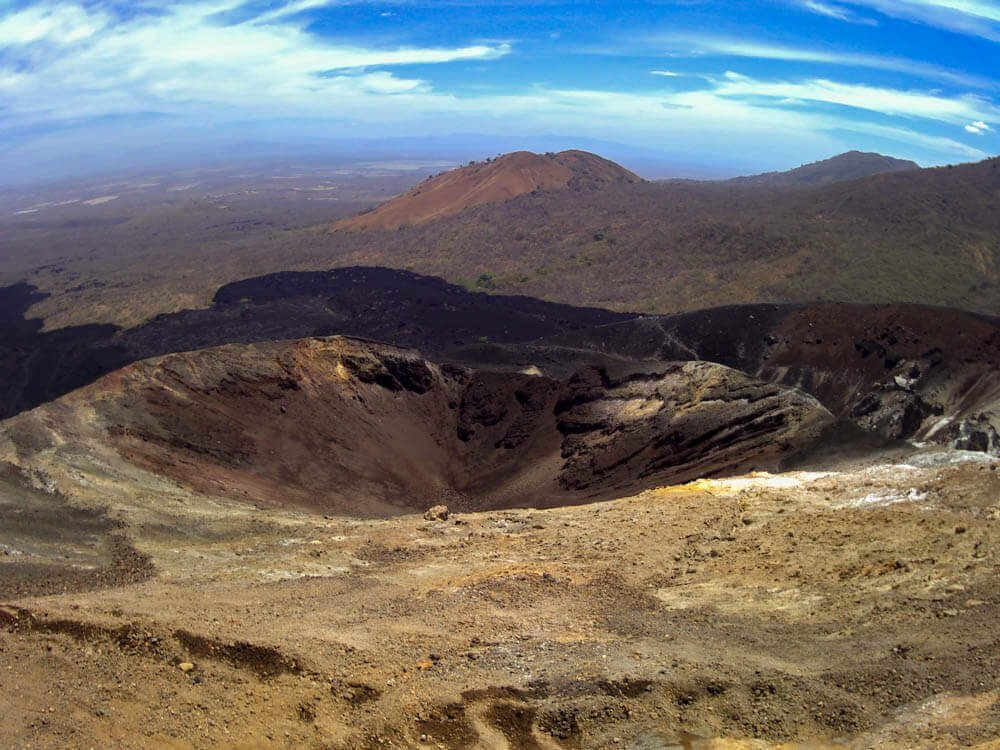 SLIDE BABY SLIDE!
And then it is time. The moment has come. I put on my oh-so-sexy prison jumpsuit of stiff blue material: the contents of the blue bags we received below. With goggles that are easily just as sexy. And after a short explanation, the moment is there: we can go volcano boarding! Eager and impatient as I am, I am the first to be ready, before I realize that it might be a good idea to first see how someone else flies down. And so, as numero dos, I go down the much-steeper-than-initially-thought slope. I do not reach the 100 km p/h, but boy do I fly. And giving up a bit of speed to be able to occasionally look up to see the volcanic landscape rising in front of you is definitely worth it. What a kick!
First thought when reaching the bottom: I want to go again!
CONCLUSION: TO DO OR NOT TO DO?
Volcano boarding near León in Nicaragua is more than racing fast on a board. It's a day of escaping the city, a beautiful hike, enjoying viewpoints and learning more about the volcanic area. It's a combination of nature and adventure. And yes, there were only fellow travelers who made the descent. But is that really so surprising? Why would a local pay a tour organization when they can also come down on their homemade boards. After all, that's what they have been doing since the beginning of the sport here in 2004.
In conclusion: a tourist trap is not how I would call it. An active adrenaline-pumping day it is. A day that I would definitely like to experience again. The climb, the view and the volcano boarding itself made it worth it. And that is something that my boo boo would have appreciated as well. Better luck next time – for him.
Practical information
Where | León, Nicaragua.
Booking | You can book your volcano boarding adventure through one of the many hostels or tour agencies throughout the city. Just walk in the door and that's that. Do however pay attention as to which option you choose: some providers offer you a t-shirt. Personally, I do not feel the need to be a walking billboard and/or to be even more clearly identifiable as a tourist, so that was a pass for me. If same goes for you, then choose the option with photo and/or video instead of the t-shirt.
Price (tip!) | Many trips are offered for $ 30 – $ 35, but I booked the trip through Hostal Casa Ivana, where I also stayed. It cost me $

26 including the entrance fee

, transportation and a knowledgeable guide who told us everything about the area. Back in León we got a beer, churros and also a return trip to the beach of Las Peñitas. And the organization they work with is fully run by Nicaraguans. So the money really stays within the community.
With your own waggie |

It is possible, but not specifically recommended. Especially because your rental car has to cross the sandy and rugged terrain around the volcano. And that means a huge chance of damage to your bolide. If that does not matter to you, you can pay $ 5 at the

centro de interpretacion de los maribios

at the bottom of the volcano, where you can also rent boards.

What to pack |

Closed sturdy shoes, water (don't be the fool I was), bandana to protect your mouth against splashing grit, good protective camera cover and your tough-I-can-handle-the-world-attitude.

Speed tips |

Do not stand. Standing up will make you lose speed as your board will sink into the volcanic sand. Do sit down and lean back as far as possible and lift your feet up a little (not unto the board itself, because if you want to brake you'll have a problem!) and you will go the fastest. Slowing down you can do by putting both feet at the same time into the black sand. Oh, and I've seen people being flown into the air and right into the gravel because they tried to do it one foot at a time. Don't, 'cause it will make you spin and crash. So enjoy, but everything you do is at your own risk!

Leun zo ver mogelijk naar achter en til je voeten omhoog (niet óp het board, want als je wilt remmen heb je een probleem!) en je gaat het snelst. Oh, en ik heb ook een aantal een flinke smakkerd zien maken: dus alles on your own risk!
Time indication

| 8:00 departure hostel in León | 9:15 at Cerro Negro | 10:15 walking on the top and boarding | 12:00 back to León | 13:00 beer and churros in León | 13:30 at hostel | 15:00 pick up | 15:30 Las Peñitas | return to León after sunset.